Fall/Winter Bible Study Schedules 2023
Morning Bible Study - Learn & Lunch
Beginning September 12th, our Tuesday morning group will continue our study on the book of Proverbs.  We meet at 10 am, study for one hour, and then leave to fellowship and have lunch together at a local establishment.  Join us Tuesday mornings to participate in this tremendous learning opportunity.

Evening Bible Study
Beginning September 13th, our Wednesday night group will continue an emphasis on prayer. This semester, we will study The Lord's Prayer. Christians all over the world recite this prayer. but what does it really mean? With teaching from theologian Dr. Al Mohler, we will explore the deep meaning of this prayer and have robust discussion based on the text and the teaching. Join us Wednesday nights at 7:00 pm for this tremendous opportunity.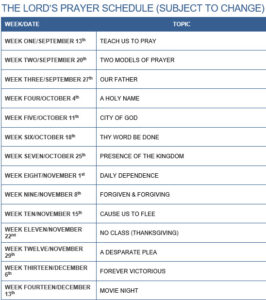 Men's Bible Study & Fellowship
This study is for men of the church and the community and is the re-vitalization of the Men's Bible Study.  This session begins on Thursday, September 7 at 6:30 pm.  Please come on out and support this ministry and fellowship with your brothers at Shallow Well Church!!